Media Mention
Exclusive: New Report Accuses UNC Medical School of Putting Politics Before Patients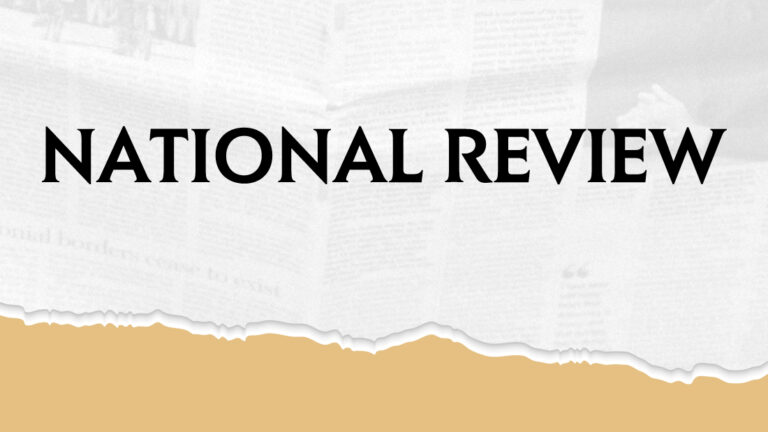 The University of North Carolina School of Medicine is putting politics before patients by forcing applicants, students, and professors to constantly prove their commitment to the tenets of diversity, equity, and inclusion as a prerequisite to advancement, rather than basing such decisions on merit alone, according to a new report from the nonprofit Do No Harm obtained exclusively by National Review.
The report from Do No Harm, a nonprofit founded to push back against the ascendant racial-equity agenda in medicine, comes just days after oral arguments in a case putting the UNC's race-conscious undergraduate admissions system on trial. Do No Harm notes that the School of Medicine (SOM) also lists diversity — to include, race, gender identity, sexual orientation, and more — as an element to be considered in its own admissions and hiring process.
But the school's commitment to DEI stretches far beyond a belief in the merits of affirmative action. It is also one of many medical schools that uses its application questions to weed out students who might be skeptical of the DEI agenda.
One question included in the UNC SOM application states that "UNC School of Medicine values diversity and inclusion across the institution. We believe that education and professional development are enhanced in educational settings that include individuals from diverse backgrounds and experiences." The application goes on to ask students to "describe how your background and/or experiences would contribute to the UNC SOM community."
If students aren't especially enthusiastic about woke culture before setting foot on campus, they're steeped in it once they arrive. In 2020, the administration "convened the Task Force for Integrating Social Justice into the Curriculum," and asked the group to "establish clear goals, strategies, action steps, metrics, and outcomes for enhancement of integration of social justice," and to "specify the anti-racism components to the curricular pieces proposed."
Faculty, too, are asked to pass ideological litmus tests. The second item listed in the school's "Required Common Criteria for Appointment, Reappointment, and Promotion for Variable, Fixed-Term, and Tenure-Track" is whether a professor has made a "positive contribution to DEI efforts" on campus, by working social justice into the classroom, completing DEI trainings, and participating in "departmental DEI committee work."
Dr. Stanley Goldfarb, Do No Harm chairman and former associate dean at the University of Pennsylvania School of Medicine, argues that these DEI criteria are indefensible in a letter sent to the dean at UNC SOM as well as North Carolina's governor, attorney general, and state legislative leaders.
"It is inappropriate to require that candidates for promotion and tenure demonstrate their commitment to a political ideology," writes Goldfarb in a letter obtained by National Review. "Far from being a value-neutral concept, DEI is an inherently ideological enterprise . . . rooted in non-scientific and non-medical philosophies, including 'Critical Race Theory' and 'Anti-Racism.'"
"Forcing candidates to declare their support for DEI when many undoubtedly oppose it would compel dishonesty," Goldfarb continues. "Moreover, forcing candidates to show a track record of involvement in DEI would compel participation in political activities. All of this is deeply illiberal and violates the basic tenets of academic freedom."
The curriculum task force has produced a report filled with an extensive glossary of DEI-related terms and recommendations for how to improve both the official and "hidden" curriculum, which the task force defines as "the unspoken or implicit academic, social, and cultural messages that are communicated to students while they are in school." It also proposes that campus administration respond more forcefully to perceived slights against DEI orthodoxy.
Among other suggestions, the task force recommends that the university "improve accountability measures" (or punishments) "for students, faculty, staff, and residents who either fail to promote a positive learning environment, contribute to a hidden curriculum that does not support SOM values." The task force would have the university institute a two-strike policy for faculty who "have a documented history of discrimination," after which the offending faculty member would be relieved of their teaching duties.
In the SOM's official response to the task force's recommendations, it argues that these calls for accountability are "addressed by existing efforts," including "effective mechanisms in place to address student mistreatment and negative behaviors experienced by students in the learning environment" and a "thorough review process" that relieves faculty of their responsibilities if they are "found to be engaging in mistreatment."
According to documents procured by Do No Harm, the focus on negative reinforcement for those who run afoul of the attitudes and behaviors promoted by the DEI infrastructure on campus goes deeper. Student workshops encourage students to report "transgressors," and materials presented by the Office of Diversity, Equity, and Inclusion make the case that "the intent of the person committing" an alleged microaggression "is not a factor" in how the perpetrator should be dealt with.
Microaggressions, per the curriculum task force, are "brief, subtle, and commonplace actions, snubs, slights and insults directed at historically stigmatized or marginalized groups that implicitly communicate inferiority and/or hostility that are often unintentional and based on unconscious bias."
The SOM is urging its faculty, student, and staff to report peers guilty of not upholding DEI doctrine — including through subjective, unintentional microaggressions — thought to be caused by "unconscious" or "implicit" bias, the controversial concept that individuals believe and act on unflattering stereotypes of certain groups without even being fully aware that they hold such views.
The theory behind unconscious bias relies on the Implicit Association Test, but as has been pointed out by critics, the test is itself not reliable (people who take it multiple times tend to see varied results over their attempts), and bias seemingly uncovered by the test does not correlate with outwardly discriminatory behavior.
DEI-driven punishment systems at other universities have resulted in a more contentious and less dynamic campus culture, with true believers oftentimes wielding DEI infrastructure and strictures as a weapon against their enemies on campus.
Goldfarb believes that the deleterious effects of UNC SOM's DEI commitment are manifold, and said as much in his letter.
"You will harm your reputation for apolitical excellence," he writes. "You will stifle your faculty's ability to teach and research at the highest level. Most disturbingly, you will worsen the education on which your students depend, hurting their careers and the patients they will soon serve."
The UNC SOM didn't respond to a request for comment.
Promoted Links
Become a Member
Help us protect patients, physicians, and healthcare itself from radical, divisive ideology.
Share Your Concern
Have you seen divisive ideology or discrimination at your healthcare employer, medical school, or medical provider? Let us know – anonymously.
Stay Informed
Get up to speed with the threats facing healthcare – and how we're protecting patients and physicians.
"*" indicates required fields